After taking their quest to end their 20-year playoff drought down to the final day of the 2021 season, the Mariners had high hopes for this year, but they mostly sputtered during the first two and a half months of the season, squandering an 11-6 start with separate 1-10 and 2-8 skids. Since June 19, when they were 10 games under .500, they've caught fire, winning 22 out of 25 games and entering the All-Star break riding a 14-game winning streak, one that has pushed them into the second American League Wild Card slot with a 51-42 record.
The Mariners aren't the only AL team that will start the second half with renewed optimism. The Orioles, who have lost at least 108 games in a season three times since 2016, their last season above .500, and appeared headed for another triple-digit loss total through the first quarter of the season, went on a 10-game winning streak starting on July 3, briefly nosing them above .500 for the first time this year. They entered the break 46-46, tied with the White Sox at 3.5 games out of the third Wild Card spot.
The two teams have surged while the Blue Jays and Red Sox have stumbled. While Toronto is still clinging to that last Wild Card spot, at the very least the race has become a four-team fight instead of simply a three-team one, with the AL Central's second- and third-place teams (the Guardians are only two games behind the Twins, the White Sox three) lurking in the weeds as well, and the Orioles at least showing a pulse. A picture is worth a thousand words: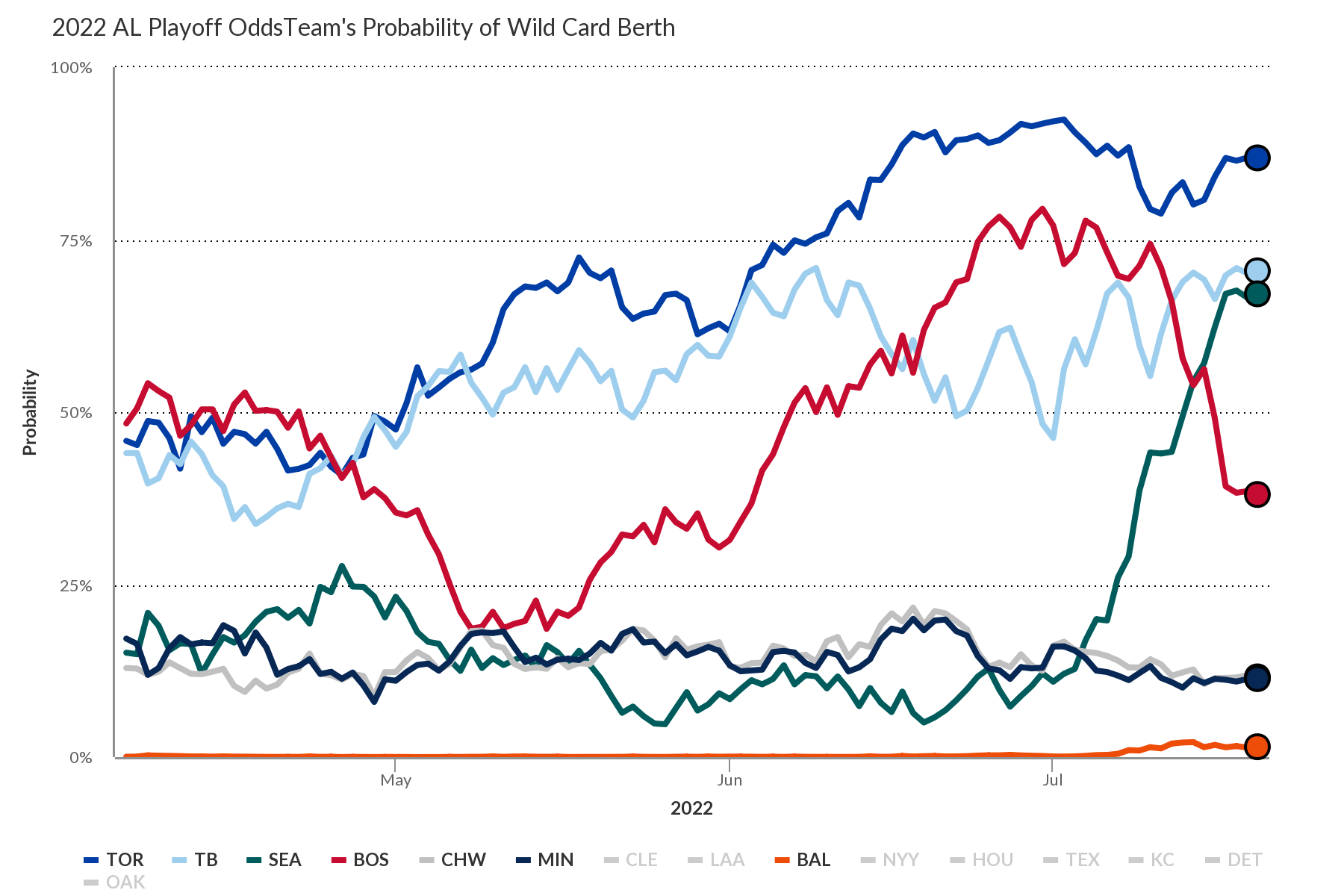 The Orioles' improvements merit a closer look, but since the Mariners are the ones occupying a playoff spot, today they get the spotlight. Their current winning streak is one short of the franchise record held by their 116-win 2001 juggernaut (Seattle's last postseason team) and tied with the Braves for the longest in the majors this year:
Longest Winning Streaks of 2022
| Rk | Team | Start | End | Games | Opp |
| --- | --- | --- | --- | --- | --- |
| 1T | Braves | 6/1 | 6/15 | 14 | ARI, COL, OAK, PIT, WSN |
| | Mariners | 7/2 | 7/17 | 14 | OAK, SDP, TOR, WSN, TEX |
| 3T | Yankees | 4/22 | 5/3 | 11 | CLE, BAL, KCR, TOR |
| | Astros | 5/2 | 5/13 | 11 | SEA, DET, MIN, WSN |
| 5 | Orioles | 7/3 | 7/13 | 10 | MIN, TEX, LAA, CHC |
| 6T | Phillies | 6/1 | 6/11 | 9 | SFG, LAA, MIL, ARI |
| | Yankees | 6/9 | 6/18 | 9 | MIN, CHC, TBR, TOR |
| 8T | Blue Jays | 5/24 | 6/2 | 8 | STL, LAA, CHW |
| | Astros | 6/28 | 7/5 | 8 | NYM, NYY, LAA, KCR |
The Mariners won 90 games last year despite being outscored by 51 runs; they were 14 wins ahead of their Pythagorean win total and 16 wins ahead of their Base Runs win total. They worked to improve over the winter, signing Robbie Ray to a five-year, $115 million deal to head their rotation, replacing free agents Yusei Kikuchi (whose option was declined) and Tyler Anderson, and trading for the Padres' Adam Frazier and the Reds' Eugenio Suárez and Jesse Winker. Even with the promise of top prospect Julio Rodríguez (no. 3 overall) joining the lineup, the team projected to win just 80 games, with a 7.7% chance of winning the division and a 22.8% chance of making the playoffs.
Though they started the season by winning 11 of their first 17 games, the Mariners hit the skids with that aforementioned 1-10 stretch, which included two series losses to the Rays plus one apiece to the Marlins and Astros. Rodríguez, Winker, Frazier, and Jarred Kelenic all struggled in April, though they were offset by big performances from J.P. Crawford, Ty France, and Suárez. By May, the bigger problem was the pitching, with Ray looking quite ordinary, carrying a 4.75 ERA and 4.15 FIP through the end of the month, and Chris Flexen and Marco Gonzales combining for -0.3 WAR in 19 starts. As of May 31, the team was 21-28, and while they began June with road series victories over the Orioles, Rangers, and Astros, they returned to T-Mobile Park and dropped series to the Red Sox, Twins, and Angels, the last of those four out of five. Over that 11-game stretch, they were shut out four times, held to one or two runs another three times, and scored more than three runs just three times.
At that point, the Mariners were 29-39, buried in fourth place in the AL West, 13 games behind the Astros and 3.5 games behind the Angels, who had fired Joe Maddon two weeks earlier. The odd weren't looking great:
The Mariners' Early Stumble
| Period | W-L | W% | GB | Proj W-L | Win Div | Clinch Bye | Wild Card | Playoffs | Win WS |
| --- | --- | --- | --- | --- | --- | --- | --- | --- | --- |
| Preseason | 0-0 | — | — | 79.6-82.4 | 7.7% | 3.8% | 15.1% | 22.8% | 0.7% |
| Thru June 19 | 29-39 | .426 | 13 | 76.6-85.4 | 0.3% | 0.1% | 5.0% | 5.3% | 0.1% |
| Change | | | | | -7.4% | -3.7% | -10.1% | -17.5% | -0.6% |
To that point, the team was scoring 3.88 runs per game via a .232/.315/.374 line. Even with it seeming as though the hits weren't falling in — their .279 BABIP ranked 11th in the league — their 103 wRC+ was still good for fifth. On the other side of the ball, they were allowing 4.16 runs per game, and ranked second-to-last in the AL with 3.3 WAR. The rotation was middling (3.73 ERA, 4.31 FIP), and the bullpen worse (4.18 ERA, 4.16 FIP), with the latter serving up 1.43 homers per nine. To be fair, the Mariners weren't quite as bad as they looked in the standings, in that their .468 Pythagorean winning percentage was 42 points ahead of their actual one, but they weren't in a great place, either.
Since that point in the season, the Mariners have somehow been nothing less than the best team in baseball, winning 22 out of 25 while nearly doubling up opponents in scoring, 121 to 66. On a per-game basis, that's 4.84 runs scored and a minuscule 2.64 allowed, for a Pythagorean winning percentage of .752.
The pitching has been particularly impressive over that 25-game span, with the rotation improving to a 3.15 ERA and 3.99 FIP and the bullpen to — wait for it — a 1.49 ERA and 2.80 FIP. Jake Mailhot went into detail on the starters a week ago, noting some adjustments to their various arsenals that have helped them improve. Atop the list is Ray's addition of a sinker, which he broke out on the fly in the third inning of his June 6 start against Houston and which has helped him to expand the strike zone horizontally. In seven starts since, the reigning AL Cy Young winner has pitched to a 1.36 ERA and 2.64 FIP while striking out 33.5% of all hitters.
The day after Ray reintroduced his sinker, Flexen swapped his curveball for a slider. In that start and the seven since, he has pitched to a 2.84 ERA and 3.86 FIP while allowing just 0.61 homers per nine, down from a 4.55 ERA, 4.81 FIP and 1.46 homers per nine through is first 10 starts.
As the starters have improved during this 25-game stretch, boosting their average from 5.50 innings per turn to 5.70, they've taken a bit of pressure off the bullpen, which has been lights out. Closer Paul Sewald has saved eight games while yielding a 1.50 ERA and 2.36 FIP in 12 innings during this run. Setup man Diego Castillo has an 0.79 ERA for the stretch, and Andrés Muñoz hasn't allowed an earned run since June 10, a span of 16.2 innings. In fact, since June 19, only two Mariners relievers have an ERA above 2.08, namely Tommy Milone (2.89 in 9.1 innings while somehow striking out only two batters) and Penn Murfee (4.91 in 11 innings); the latter, a sidearming 28-year-old rookie, has offset that by striking out 17 without issuing a walk.
On the offensive side, the hits have started to fall for the Mariners. Via a .297 BABIP, they've hit .249/.330/.432 for a 122 wRC+ from June 20 onward, with the last mark surpassed by only the Yankees. Their hottest hitter in that span has been Rodríguez (.301/.365/.634, 183 wRC+ in 104 PA). If you watched this week's Home Run Derby — where the rookie put on an incredible show en route to a finals appearance — you no doubt heard about the arc of his season. Though he cracked the Opening Day lineup, he struggled mightily in a homerless April, hitting .205/.284/.260 (61 wRC+) and getting a raw deal on a disproportionate number of borderline pitches. He began May with a flourish, going 3-for-4 against the Marlins in Miami, with a single and a three-run homer off Sandy Alcantara, and has hit .293/.351/.535 (155 wRC+) from that day onward, asserting himself as the favorite in the AL Rookie of the Year race.
Rodríguez hasn't been alone in thumping the ball. Winker (.296/.383/.521, 164 wRC+), Suárez (.272/.376/.467, 147 wRC+) and catcher Cal Raleigh (.250/.337/.553, 151 wRC+) have been the hottest of the other regulars, and Carlos Santana has hit .224/.348/.448 (132 wRC+) in 69 PA since being acquired from the Royals on June 27, two days after France landed on the injured list with a Grade 2 strain of the flexor in his left forearm. France, whose 148 wRC+ (.308/.376/.470) leads the team, missed 12 games and took a few more to find his footing but closed the first half with a reassuring 8-for-20 binge in Texas before making an eighth-inning entry into Tuesday's All-Star Game.
The Santana acquisition was a nice depth-building move by general manager Jerry Dipoto given that the team has been stretched thin by injuries. Catcher Tom Murphy, who started 83 games last year, is out for the season due to surgery to repair tears in his left rotator cuff and labrum. Oft-injured outfielders Mitch Haniger and Kyle Lewis have been limited to nine and four games at the major league level, respectively. The former has missed time due to a COVID-19 infection and then a Grade 2 right high ankle sprain; he's expected to begin a rehab assignment this weekend. The latter began the season on the IL recovering from his third surgery on his right knee, then spent the maximum 20 days on a rehab assignment before being activated by the Mariners in late May, but suffered a concussion when he was hit in the head by a José Urquidy pitch on May 28. He wasn't well enough to begin a rehab assignment until July 3, but should be back on the big league roster tomorrow. Also on the IL since June 28 is Taylor Trammell due to a right hamstring strain; he too is eligible to return this weekend. During the Mariners' run, switch-hitter Sam Haggerty (.351/.385/.568, 177 wRC+ in 39 PA) and righty Dylan Moore (.192/.338/.385, 112 wRC+) have formed a potent platoon.
Exactly how Dipoto and manager Scott Servais will piece things together as the injured outfielders return remains to be seen, but Justin Upton, who has hit just .125/.263/.208 in 57 PA, may well be the first cut. It's not hard to imagine Dipoto trading at least one outfielder before the August 2 deadline, but then it's never hard to imagine Dipoto trading just about anyone. Second base, where Frazier and Abraham Toro have combined for just a 71 wRC, and DH, where the team has used 15 different players led by Suárez (63 PA) and Upton (39 PA), are the lineup's weakest spots, and both figure to be among the problem areas I highlight in my upcoming Replacement Level Killers series. Santana's presence probably checks the latter off the Mariners' list, but Frazier, as a pending free agent, has a less secure hold.
Could the Mariners deal for Juan Soto? ESPN's Jeff Passan told a Seattle radio station that it would probably require a package that included Kelenic, and prospects Matt Brash (currently in Seattle's bullpen), Emerson Hancock (a righty starter), Noelvi Marte (a shortstop) and Edwin Arroyo (also a shortstop) — four of their top five prospects now that Rodríguez and George Kirby have graduated off their list — "and maybe even more than that." That the Mariners have the depth to make such a move at least puts them in the running, but they're hardly without company, with several of the other possible suitors for Soto boasting more alluring prospects and a demonstrated willingness to take on contracts the Nationals might be keen to move. Alternately, they could start at the top of the market for a starting pitcher, as they've long been linked to the Reds' Luis Castillo. Like the GM of every other contender, Dipoto figures to bring in some arms come August 2.
Because the Astros have gone 18-7 themselves for the AL's second-best record during the Mariners' run, Seattle has gained only four games in the AL West race, moving their division odds a negligible amount. But their odds of claiming a Wild Card Spot have skyrocketed:
The Seattle Surge
| Period | W-L | W% | GB | Proj W-L | Win Div | Clinch Bye | Wild Card | Playoffs | Win WS |
| --- | --- | --- | --- | --- | --- | --- | --- | --- | --- |
| Thru June 19 | 29-39 | .426 | 13 | 76.6-85.4 | 0.3% | 0.1% | 5.0% | 5.3% | 0.1% |
| Thru July 20 | 51-42 | .548 | 9 | 86.5-75.5 | 1.2% | 1.1% | 67.2% | 68.3% | 1.7% |
| Change | | | | | +0.9% | +1.0% | +62.2% | +63.0% | +1.6% |
It's been an impressive turnaround — it's not often that a team adds 10 wins to its projected end-of-season total in the span of four weeks — and while that hardly guarantees a playoff spot, the Mariners are in a much better place than they were a month ago.
creditSource link