In this edition of Toronto Maple Leafs' Quick Hits, I'll share a wild rumor that the team is considering trading William Nylander to the Arizona Coyotes for Jakob Chychrun.
Second, I'll wonder what might happen to Michael Bunting after this season. Specifically, will he re-sign with the team? And, will it be for a hometown discount?
Third, I look back at one of the Maple Leafs' first defensemen I got to know when I started to cover the team back in 2018. That's Jake Gardiner. [In fact, my first hockey post ever was about Gardiner.] When his contract expired, he signed with the Carolina Hurricanes. He was out of hockey for the 2021-22 season. What is he up to now?
Related: Maple Leafs News & Rumors: Knies, Niemela, Hirvonen & Bunting
Quick Hit One: Is Nylander Moving to Arizona for Chychrun
HockeyBuzz and Eklund are sources that seem to have their ear on the ground almost more than any other source for Maple Leafs' rumors. That many of these rumors turn out to be fiction is a sidebar. The fact is that they are often less-than-reliable sources, a lot of their rumors seem to be just mush.
But, here's one that the site reported today. The rumor is that Maple Leafs' general manager Kyle Dubas isn't done this offseason. William Nylander will be moving out, and Jakob Chychrun will be coming to the Maple Leafs from the Arizona Coyotes.
Eklund noted that he had been hearing the possibility of this trade for "a few weeks now, but talking to another GM I am now convinced enough to post this here."
So, if we are buying what he's selling, he's been talking with more than one NHL general manager about this. If that's accurate, then maybe he could be listened to. He's obviously more connected than I am.
The move would have the goal of solidifying their Maple Leafs' defense in anticipation of fighting playoff battles with teams like the Florida Panthers. Other rumors have it that a number of NHL teams have been circling around Chychrun but the Coyotes' asking price was far too high.
Obviously, the price remains high, because Chyrhcun is still with the Coyotes. However, the rumor suggests that the Maple Leafs are desperate enough to swing for the fences. The rumor also had it that Toronto would move out Nylander, with a first-round draft choice, and with a prospect or two.
Seems silly to me. Still …
Related: EX-MAPLE LEAFS JEREMY BRACCO HEADED TO THE KHL
Quick Hit Two: Will Michael Bunting Sign a Hometown Discount?
If he isn't already, Michael Bunting should be a Maple Leafs' fan favorite. He checks off a lot of boxes. He's a hometown kid. He's a bit of a redemption story. He came in as an unknown on a cheap contract, and he played his butt off. He's the kind of hard-working rags to riches (well, not yet as rich as he could be on less than $1 million per season for 2022-23) story. He even loves his mom like crazy.
Before last season began, Bunting was little known by more than avid hockey fans. When general manager Kyle Dubas signed him, he was little more than an AHL lifer. He'd only played a few games with the Coyotes.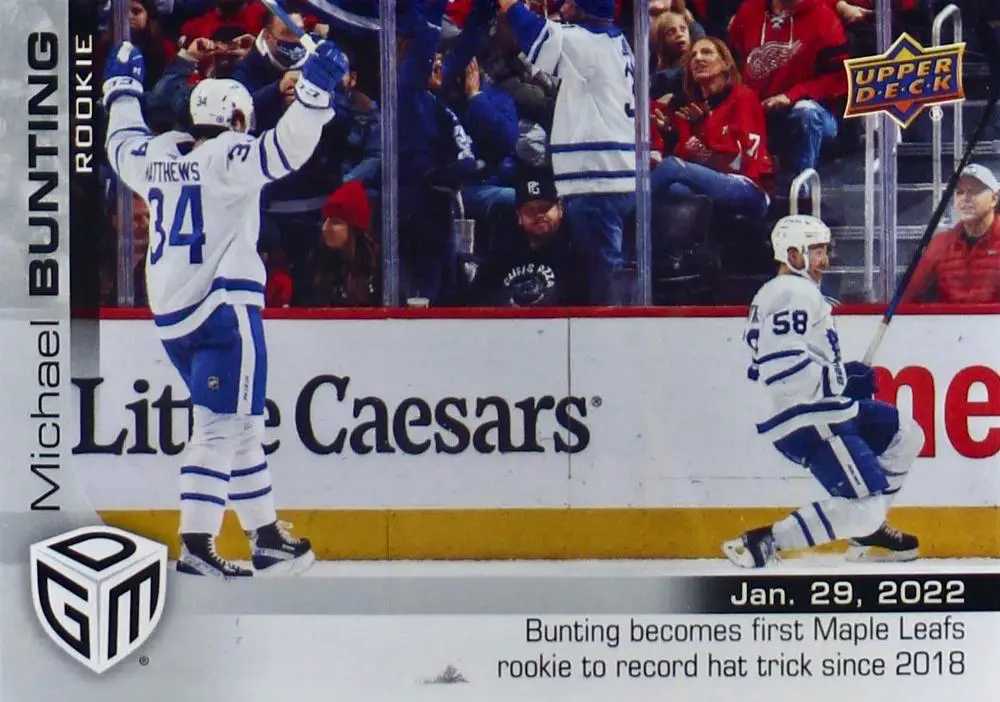 But he came in and was a revelation. He was third in Calder Trophy voting. He made the team's first line of Auston Matthews and Mitch Marner more complete. As it stands heading into the regular season, he's seen as a huge part of the team.
What If Bunting Has a Strong 2022-23 Season?
Assuming Bunting will have another strong season (and why wouldn't he), the Maple Leafs should be anxious to sign him for a longer term.
However, will he want to play at home in Toronto? I'm guessing the answer is yes because he took less money to come to the Maple Leafs than he could have received from other teams.
I'm guessing (a) that Bunting will take a hometown discount on a longer-term deal and (b) would be open to re-signing during the regular season, much like Morgan Rielly did last season. But how much in terms of dollars and cents would his next contract be?
It seems almost certain that Bunting will not become another Ilya Mikheyev, who moves to another team for a higher amount of money. As a Maple Leafs' fan, one has to hope Bunting gives the team every reason to need to pay him a much higher salary. I hope this young player earns a huge raise.
You also have to hope the Maple Leafs to make a long-term commitment to him and re-sign him sooner rather than later.
Quick Hit Three: Where is Jake Gardiner Now?
Unlike Bunting, Jake Gardiner was not a Maple Leafs' fan favorite. In fact, I heard readers of my posts say some horrible things about the 32-year-old Minnesota native. Even with an injured back, he played hard but was booed incensently. When his contract expired after the 2018-19 regular season, he signed with the Carolina Hurricanes.
He played 68 games in 2019-20 but only 26 games in 2020-21. Then his back gave out and he wasn't able to play at all in 2021-22. Gardiner was ruled out for the entire 2021-22 season to undergo back and hip surgeries. He was placed on the long-term injured reserve list.
There's good news for Gardiner this offeseason. In June, Hurricanes general manager Don Waddell reported that Gardiner was medically cleared to return to play following the surgeries on his back and hips.
How he will play, no one knows. However, he has one year remaining on a four-year, $16.2-million contract (AAV $4.05 million). Good luck to Gardiner.
Related: Maple Leafs Sign Goalie Dylan Ferguson to PTO: Who's He?

creditSource link