In this edition of Toronto Maple Leafs' Quick Hits, I'll look at thee key players on the team's roster – Michael Bunting, Auston Matthews, and John Tavares.
What kind of seasons will they have in 2022-23?
Quick Hit One: Looking Back. Why Michael Bunting Came to the Maple Leafs for Less Money
Funny how a year changes things. When Michael Bunting first came to the team, he was asked why he took less money to come to Toronto than he might have made elsewhere. Here's what he said then.
Six Reasons Bunting Came to the Maple Leafs
There were six reasons Bunting said he choose the Maple Leafs over other teams.
Reason One: He's coming home to Toronto. [He did come home.]
Reason Two: He has a good relationship with general manager Dubas and head coach Keefe. [That relationship is likely better now than when he came.]
Reason Three: He thinks the Maple Leafs are a good chance to go for the Stanley Cup. [The team will try again this season.]
Reason Four: He was told there are top-six left-winger jobs open and that he had a chance to compete for them. [He competed and, eventually, won the prize spot on the team's roster.]
Reason Five: He wants to play with the Maple Leafs' big guns. [He did.]
Reason Six: He's confident enough to believe he can help. [He did. His third-place Calder Trophy vote was proof positive.]
At the time, Bunting didn't know where he would play. He might have thought he had a chance at the top line, which is where he eventually found himself. However, it took a while before the team tried other options. Looking back now, how right on Bunting was with his list of reasons.
He landed well.
Related: Maple Leafs News & Rumors: Marner, Nylander, Aube-Kubel & Robertson
Quick Hit Two: John Tavares Gets No Love, But He Deserves It
In 2021-22 John Tavares scored 27 goals and added 49 assists (for 76 points) in 79 games. That's a good season, but it doesn't seem to be good enough for Maple Leafs' fans. They are constantly claiming that Tavares is a detriment to the team because he makes such a high salary and because he's losing his speed and skills. Maybe the first, but not the second.
All that said, Tavares is a good player who was recently called underrated. The author of that post (James Tanner of Editor in Leaf) noted some of Tavares' analytics that helped him support his thesis that Tavares should get more love from the fans.
Why Should Tavares Be More Appreciated?
Point One: Last season, Tavares had his second-highest points per 60 minutes of ice-time (all situations) of his career. This points-per 60 minutes mark was second only to his first year with the Maple Leafs.
Point Two: Last season, Tavares had the third-lowest shooting percentage of his career. In other words, he could have had far better numbers if his shooting percentage just averaged what it usually did.
Point Three: Last season, Tavares' analytical numbers showed a 53% Corsi, a 55% Scoring Chances, and a 54% Expected Goals. Given that anything over 50% is really good, those analytics are strong. (By comparison, in Tavares' best years his analytical statistics were 55% Corsi (in 2014-15), 55% Scoring Chances (in 2018-29), and 54% Expected Goals (also in 2014-15).
Point Four: When Tavares was on the ice last year in five-on-five situations, the Maple Leafs were outscored 61-57. That made Tavares a plus/minus minus-8. (Tavares' winger William Nylander was a minus-9.)
How does Point Four gibe with Tavares' high analytics? The fact is that Maple Leafs' goalies had a .898 save percentage (for some reason, who knows why?) when Tavares was on the ice. The analytics show that, when Tavares was on the ice, his team had the puck more than the opposition, took more shots, had more scoring chances, and was all in all better that the opposing team. 
The point is that Tavares is panned by the fans when he should be appreciated more. While I like Tavares, he's not a special favorite on the team (I still like Jason Spezza and no one has replaced him yet.). Still, it just doesn't seem fitting that fans should dump on the guy so much when it isn't warranted.
Related: HOW GOOD CAN MAPLE LEAFS AUSTON MATTHEWS BE IN 2022-23 – EVER?
Quick Hit Three: How Auston Matthews Can Improve in 2022-23
Auston Matthews is simply an amazingly good player. And, as he's maturing, he's getting stronger and better every game. The quick question is: Can he improve on last season's performance?
He might be able to score 60 goals again, but he also might not. But what he can do – and he has been working on – is improving his 200-foot game without the puck. Over the past two seasons, he got sneakier and even more dangerous as a pickpocket.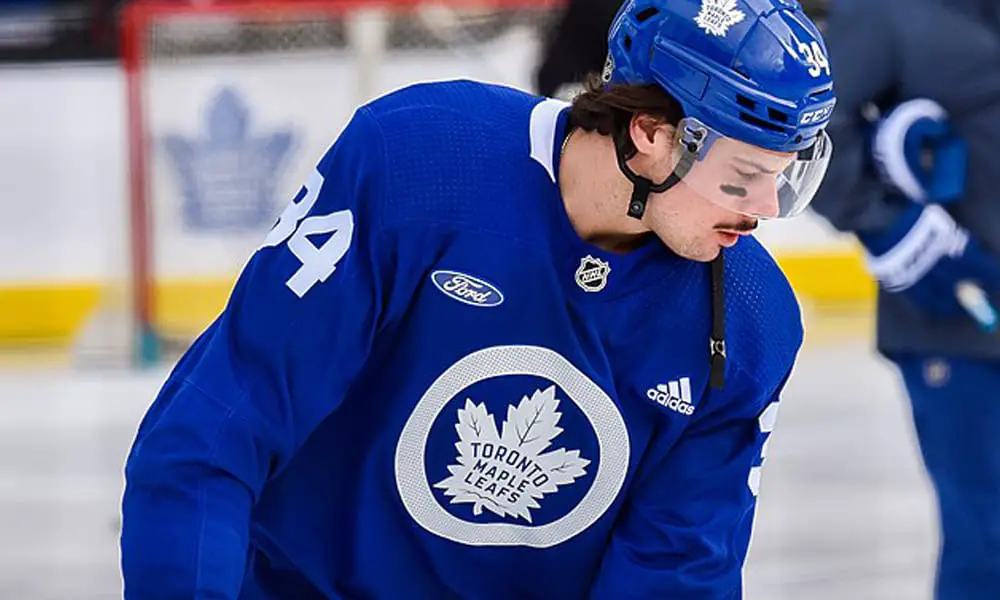 He is beginning to use his size to a greater advantage every season. That's true on offense, but it's also true on defense. He's growing more proficient at disrupting opponents off the puck and using the ensuing turnover to create breakouts of make more space for himself to score. 
What makes Matthews so fun to watch is that he's got a high hockey IQ. He's just smart on the ice. You can almost see his mind working as he tries new things on the ice. He's so gifted and skilled that more often than not he can turn his plans into reality.
In short, Matthews is improving every season. He's learning the game more and blending this knowledge with experience. He's worth the price of admission.
Related: If Maple Leafs' Find Nick Robertson the Right Fit: Watch Out!

creditSource link